Highlights include:
Salary Negotiations
NJ SMART Transmittals
Position Control
Employee Benefits
Time Clock
Substitute Teachers
Employee Web Portal
Data Base Audit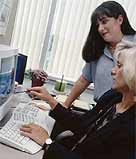 The Human Resources software and Payroll module make up a complete system of employee tracking. Both are integrated with the Budgetary Accounting module. Human Recourses and Payroll share common information so there is no duplication of data. Corollary modules include Time Clock, History and Evaluations, Substitute Teachers, Position Control, Employee Benefits and a Web Based Employee Portal. The Extended Data Sets software allows you to capture data unique to your district.
The Human Resources module tracks attendance, seniority, position control and employee education and certification. Complete employee demographics are included. Salary guides with scatter gram reports and comparison reports make salary negotiations and "what-if" calculations a breeze.
A full range of attendance reports are included, from daily and yearly attendance reporting to teacher sign-off and statistical analysis reports.
NJ SMART transmittals are generated based on the demographic, position control and payroll data already entered in the system, making the creation of these State mandated files a breeze.
A web portal allows employees to view their demographic, attendance, payroll stubs and W2's. Employees can optionally be allowed to edit selected demographic items and request attendance such as vacation and personal days.
Document linking is a standard feature. This allows items such as teaching certificates and proof of citizenship to be scanned and attached to an employee.
The Payroll module is a comprehensive program covering customized pay/deduction types, payroll formulas, health benefits, payroll generation, check generation and printing, direct deposit functions, W-2 forms, agency checks and FICA\MED contribution reports. Electronic submission to governments and banks is supported and a wide variety of reports allow straightforward management of even the largest districts.
Contact Computer Solutions, Inc. to schedule a demonstration for your district!